Back to RW56 Back to the Federal Index Home
A LITTLE HISTORY ON THE 56TH (1989-90) DUCK STAMP ARTIST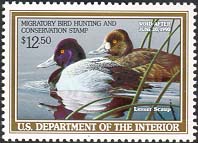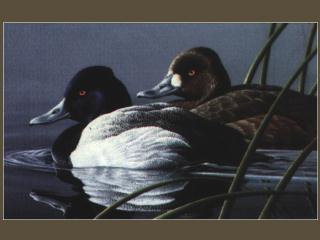 Winning top honors in the prestigious Federal duck stamp competition had always been a lifelong goal for wildlife artist Neal Anderson who was born on May 27, 1948. Neal had entered paintings in five previous Federal duck stamp contests, capturing second placed in 1986 and third in 1984. On November 8, 1988 he received a telephone call for Frank Dunkle, Director of the Fish and Wildlife Service. His original gouache painting of a pair of Lesser Scaup had been selected from among 681 entries as the winner in the 1989-90 Federal Duck Stamp competition.
This wasn't the first major milestone in Anderson's career. Following graduation from high school, he attended two years of commercial art school in Omaha before returning to his native Lincoln. He worked for a short time with a graphics design company, before striking out on his own. An official from the Game and Parks commission suggested he contact NEBRASKAland magazine about providing illustrations. In 1975 Neal was assigned to do wildlife illustrations for the fauna series, and he has been providing artwork for the magazine ever since. The exposure he received through the magazine, plus the new emphasis he placed on wildlife art, eventually helped Anderson develop a new career. In addition to NEBRASKAland, his illustrations have appeared in Kansas Wildlife and Wyoming Wildlife magazines, as well as two novels.
Winning competitions and designing conservation stamp art is not new to Neal Anderson. He won the 1984 and 1988 Nebraska Conservation Stamp contests, and was commissioned to paint the 1984 National Arbor Day Stamp, the 1984 "First of State" Trout Stamp and the 1986 Nebraska Wood Duck Stamp. Named their "Artist of the Year," Anderson was selected by Nebraska Ducks Unlimited to design their sponsor print in 1984. He also designed the 1988 Kansas Ducks Unlimited Sponsor Print and the 1989 Missouri Ducks Unlimited Sponsor Print.
He was honored as the featured artist in the 1986 National Wildlife Art Show in Kansas City, and has repeatedly won "Best of Show" honors in several categories over the past ten years at the show. He was also named the featured artist at the 1988 Iowa Wildlife and Western Art Festival. His work has also been featured in the Wild Wings annual Fall Festival Show.
Mr. Anderson's commitment to supporting conservation efforts continues today. Since prior to 1976 he has been an avid supporter of conservation organizations such as Pheasants Forever, Safari Club International, Quail Unlimited and Ducks Unlimited, for which he is a sponsor member. His donations of original art and limited edition prints have greatly aided these groups in their fund-raising efforts to improve wildlife habitat.
Mr. Anderson left a 13-year commercial art career in 1986, when he made the decision to paint wildlife on a full-time basis. He paints almost exclusively in gouache - a gum and honey based tempera paint. Specializing in waterfowl, he strives to depict each subject in its natural habitat, and says, "I want it to be correct in detail, yet I also want it to look good from a distance." His reference materials for a painting include photographs, study skins, mounted animals and live subjects, whenever possible. Mr. Anderson believes an artist must learn how to study the subject, the details, shape and shading before trying to reproduce it on canvas. "The hand will improve with time and experience, but until you learn to study the subject first, you will never be able to portray it properly."
Mr. Anderson strongly believes one should continue to strive for improvement with each new work. Over 36 of his paintings have been reproduced in limited edition prints, and his work can be found in private and corporate collections throughout the United States and Canada. He currently resides in Lincoln, Nebraska with his wife, Susan and their seven children.
--------------------THE ART--------------------
Lesser Scaup was painted in Gouache. It was reproduced on 100 percent rag paper using fade-resistant inks. The edition was 20,000 regular signed and numbered prints, 7,000 with a gold-plated bronze medallion, and 500 prints with a pencil remarque, sterling silver and gold-plated bronze medallion. The image size is 6-1/2" x 9". The medallion is full struck 2 3/32"x1-5/16"
--------------------THE STAMP--------------------
Lesser Scaup...Engraved by the Federal Bureau of Engraving from the original artwork. Printed in sepia ink. The stamp sold for one dollar. Postal records show 1,415,882 stamps sold. First day of sale was June 30, 1989.