Back to RW2 Back to the Federal Index Home
A LITTLE HISTORY ON THE 2ND (1935-36) DUCK STAMP ARTIST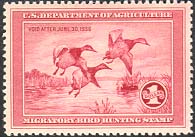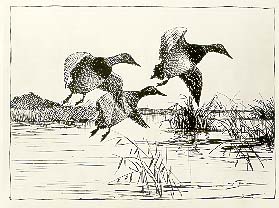 Frank Weston Benson was a versatile artist, known first for his oil and watercolor portraits and later for his wildlife and sporting scenes. When he took up etching at the age of 50, he became known as the dean of American etchers and was given credit for helping to revive the almost lost art in this country.
He was born on March 24, 1862 in Salem, Massachusetts. His mother was Elizabeth Frost (Poole) Benson and his father George Wiggen Benson, a cotton merchant. As a boy, he attended local Salem schools.
When he was 18 years old, Mr. Benson went to the Boston Museum of Fine Arts to begin his study of art. Three years later, in 1883, he went to Paris to study at the Academie Julien for two years under Boulanger and Lefebvre.
When he returned to America in 1885, Mr. Benson spent two years as an instructor in painting and drawing at the Portland (Maine) School of the Arts. Mr. Benson also painted portraits, often placing his subjects in outdoor scenes of brilliant light and color. He excelled in his painting of women and children.
It was in 1912, when he was 50 years old, that he took up etching. He subsequently made over 300 plates and began to gain wide acclaim for his work. Best known were his waterfowl etchings.
As Mr. Benson's skills continued to develop, he showed a tendency to abbreviate his work, and his portrayals became almost a form of shorthand. Many great artists (such as John Martin and Jean Dufy) show this tendency as their talent matures. When he was 80 years old, Mr. Benson did a Duck Stamp etching in which this trend was apparent. Its simplicity may not be fully appreciated by laymen, who prefer more detail, but its merit is immediately discernible to a trained eye. It is a brief statement that only the most technically competent artist can achieve.
Some of Mr. Benson's well-known paintings are My Little Girl, In the Spruce Woods, Pomona, Moonlight at Sea, and Eleanor. The Library of Congress in Washington, D.C. houses some of his finest work. There, he painted the ceiling panels representing Three Graces and four circular wall panels depicting Four Seasons. He was elected to the National Academy of Design, an honor given only to the most outstanding fine artists, and was the recipient of innumerable other honors and prizes.
When he was not painting or etching scenes of the outdoors, Mr. Benson enjoyed shooting and fishing. His political views were independent and his religion Episcopalian.
He died on November 14, 1951 in Salem, Massachusetts at the age of 89.
---------------THE ART---------------
Canvasbacks was originally painted in watercolor wash on watercolor paper, in a small size. The print is a hand-pulled etching 5"x7". The work was printed in black ink on light creme Shogun paper. Each print was signed in pencil and unnumbered. The image size of the print is 3"x5".
---------------THE STAMP---------------
Canvasbacks...Engraved by the Federal Bureau of Engraving from the original artwork, color printed in rose lake ink. The stamp sold for one dollar. Postal records show 448,204 stamps sold. First day of sale was July 1, 1935.
Most of the information contained above is from the book Federal Duck Stamp Story, Fifty Years of Excellence, by Laurence F. Jonson; Alexander & Co. It is used here with permission from the author. For more information on this book, please click here.