Back to RW4 Back to the Federal Index Home
A LITTLE HISTORY ON THE 4TH (1937-38) DUCK STAMP ARTIST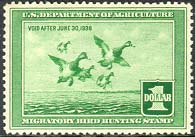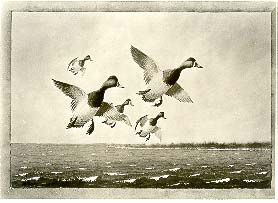 Joseph D. Knap's business had always been real estate. Artwork had always been a hobby, never a profession. At age 49, at the insistence of one of his hunting companions, he first exhibited some of his watercolors at the Ackerman Galleries in New York. He met with almost immediate success.
Mr. Knap's artwork was the natural outgrowth of his love of duck hunting, as interest that he developed at an early age. Shortly after he was born in Scottdale, Pennsylvania, in 1875, his family moved to a home on the Hudson River in Catskill, New York. Although Mr. Knap was lame all of his life, he liked all sports and participated in many including sailing, golf, and tennis. His favorite pastime, however, was duck hunting, and he hunted along the Hudson every fall from an early age until the late 1940's when he was no longer able. He married in 1910 and had one son, who bears his name.
Mr. Knap preferred watercolor for most of his work but he did make two sets of etchings. Each set was a limited edition of 100 signed proofs and the plates were destroyed. One of the sets was composed of five etchings entitles Marsh Pools, Dropping Down, Three Mallards, Rice Flats, and Sealing.
In addition to his watercolors and etchings, Mr. Knap produced some writing about his favorite sport. Outing magazine published his first stories sometime between 1900 and 1910. Later he began to illustrate his stories with paintings or pen and ink drawings. During a three-year period starting in 1926, he did several covers and wrote lead stories for Forest and Stream magazine, often adding his own illustrations. Spur magazine carried two of his paintings at one time.
Mr. Knap also had a great interest in Ducks Unlimited, Inc. and for some 20 years donated an original painting to each annual dinner of the organization in New York. The proceeds from an auction of the paintings went to D.U. to be used for waterfowl conservation purposes. His paintings were frequently used in the D.U. magazine and his designs for several of the organization's membership certificates.
Mr. Knap's paintings were exhibited in many cities. At different times throughout his life, his work appeared on display in Chicago, Cleveland, Boston, Detroit, and London. His paintings were also hung at the Grand Central Galleries and at the Museum of Natural History, both in New York.
Although he considered business his profession, Mr. Knap made a notable contribution with his unique, well-developed technique. He continued with his work and his play, hunting until he was not longer able in the late 1940's. After many years of painting, etching, and writing, Mr. Knap died in January, 1962.
---------------THE ART---------------
Greater Scaup was painted in brown watercolor wash on watercolor paper. The original art was then used to make a fine-grained gravure which was printed on off-white paper using warm brown ink. The print is hand signed in pencil but not numbered. Image size of the print is 5 3/4"x8 5/8".
---------------THE STAMP---------------
Greater Scaup...Engraved by the Federal Bureau of Engraving from the original artwork. Printed in light green ink. The stamp sold for one dollar. Postal records show 783,039 stamps sold. First day of sale was July 1, 1937.
Most of the information contained above is from the book Federal Duck Stamp Story, Fifty Years of Excellence, by Laurence F. Jonson; Alexander & Co. It is used here with permission from the author. For more information on this book, please click here.