Back to RW14 Back to the Federal Index Home
A LITTLE HISTORY ON THE 14TH (1947-48) DUCK STAMP ARTIST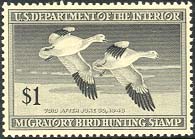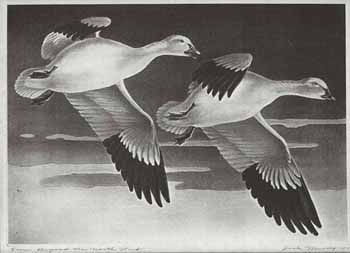 The story of Jack Murray's family in this country began with his grandfather who brought his wife and four children to the United States from England. Ships sailed the Atlantic regularly in those days and the Murrays took passage on a side-wheeler. the ship on which the Murrays were traveling ran into a bad storm in mid-ocean and lost its rudder. The ship was at the mercy of the sea for a full month before rescue came. One can imagine the doubts and worries for the adults on board. For the children, it was a difficult experience that was remembered long into the future. From that point on, the Murrays did not cross oceans lightly.
Jack was born on May 12, 1889. When he was five years old, the family moved to Boston where Jack showed an early interest in sketching and taxidermy. After attending Winthrop High School, he went to Massachusetts State college where he graduated in 1914. He finished his education at the Massachusetts School of Art. Mr. Murray's favorite classes were the ones he took under the instruction of Ernest L. Major. Mr. Murray was impressed by Mr. Major's teaching techniques, but perhaps just as much by another student in the class, Helena Feeny. Miss Feeny was a fine artist also, and later became the director of the art and advertising department at Filene's Department Store in Boston. They were married in 1921 and set out that very day for New York to try their luck in the city.
The character of his employment changed gradually as he got more and more assignments to do drawings and paintings for advertising agencies. When he and Mrs. Murray bought a farm outside the city in 1926, he fixed up a studio where he could keep on with the painting of wildlife, the major interest of his life. Mr. Murray had done wildlife pictures, strictly as a hobby, for years, but he reached a turning point in his career when one of these painting was used on the cover of the Saturday Evening Post.
After that, he kept very busy painting a cover painting each month of the year for several magazines. His inside illustrations were innumerable. Some of the magazines that used his work were Country Home, Better Homes and Gardens, Woman's Home Companion, Successful Farming, Good Housekeeping, Child Life and This Week Magazine of the New York Herald Tribune. He also did illustrations of natural history subjects for the American Museum of Natural History in New York.
Mr. Murray returned to Boston in 1944 and became the art director of four magazines simultaneously. they were Open Road for Boys, Child Life, Outdoors, and Saltwater Sportsman. In the midst of these busy years he found time to do his Duck Stamp design, deriving its title for the scientific name for the Snow Goose: Chen (Greek, goose) Hyperborea (Latin, from beyond the North Wind).
Mr. Murray died in March 1965.
-------------------------THE ART-------------------------
Snow Geese was done in watercolor and gouache. A fine grained gravure was hand pulled black ink on off-white paper. the prints were hand signed in pencil but not numbered. The print image size is 8 1/8" x 11 3/8".

-------------------------THE STAMP-------------------------
Snow Geese...Engraved by the Federal Bureau of Engraving from the original artwork. Printed in black ink on white. The stamp sold for one dollar. Postal records show 1,722,677 stamps sold. First day of sale was July 1, 1947.
Most of the information contained above is from the book Federal Duck Stamp Story, Fifty Years of Excellence, by Laurence F. Jonson; Alexander & Co. It is used here with permission from the author. For more information on this book, please click here.