Back to RW22 Back to the Federal Index Home
A LITTLE HISTORY ON THE 22ND (1955-56) DUCK STAMP ARTIST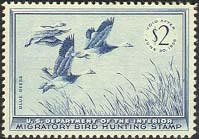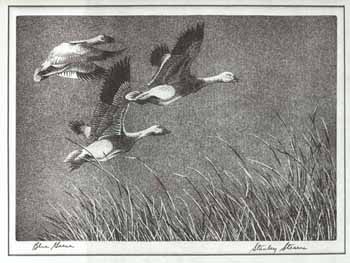 Stanley Stearns's father was Harold T. Stearns of Wallingford, Connecticut, a geologist employed by the U.S. Geological Survey. His mother was Dr. Norah (Dowell) Stearns of Providence, Rhode Island, a geographer.
Mr. Stearns went to junior high at Punahou Academy in Honolulu and then to Roosevelt High school in Seattle. While he was a freshman at Roosevelt, he had the shortest football career on record. All 100 pounds of him went out of the sport. On the first afternoon of practice, he charged onto the field, full of enthusiasm. Unfortunately, his enthusiasm did him almost no good against 200 pound teammates. He walked off the field for good after an hour and one half. After that, he put his energies into his studies. He finished high school in two and one-half years. He entered the University of Washington in Seattle at the age of 16.
During these years, he achieved a special schedule that allowed him to have afternoons off. He worked 33 hours a week as an apprentice in a boat shop. Somehow, even then, he kept up his schoolwork.
When he went to the University of Washington, he was coxswain for the crew team. He also went out for the two-mile cross-country and for the boxing team, competing admirably within his weight class. He started out in engineering but was attracted by subjects that were not offered in the engineering college. He switched majors. In a year and a half, he completed three years' work with a fine general education from four majors, but no degree.
One might, against all college rules rules, he tried to take his boxing skills off campus for a professional preliminary but for $25. Because the promoters of the contest could not match him with someone in his weight class, he went up against a larger man. He not only took a brutal beating, but broke nearly every small bone in both his hands because they were improperly wrapped. He still suffers from the damage and his hands become virtually useless outdoors on any but the very warmest days.
When World War II broke out, Mr. Stearns joined the Marine Corps and ended up in a program that required him to stay in college. He looked for a quicker way to take a swipe at the enemy, and found a way to get sent to boot camp in San Diego as a private. While there, he became seriously ill and spent over three months in the hospital. His platoon was sent to the South Pacific to suffer nearly 100 percent casualties. He then served in a variety of positions in the Marines, going to radar school, navigation school, and bombardier's school by the time he was 19.
When he was 19 years old and still in the Marines, he married the former Jean Pride of Island Falls, Maine. They were married in North Carolina on July 28, 1945.
-------------------------THE ART-------------------------
Blue Geese was done in ink and pencil on scratchboard. A chrome-faced copper aquatint etching was hand pulled using warm black ink on creme laid Tovil London Town paper. The prints were hand signed in pencil but not numbered. The print image size is 7 1/2"x10 1/2".
-------------------------THE STAMP-------------------------
Blue Geese...Engraved by the Federal Bureau of Engraving from the original artwork. Printed in warm blue of medium dark shade ink. The stamp sold for two dollars. Postal records show 2,369,940 stamps sold. First day of sale was July 1, 1955.
Most of the information contained above is from the book Federal Duck Stamp Story, Fifty Years of Excellence, by Laurence F. Jonson; Alexander & Co. It is used here with permission from the author. For more information on this book, please click here.