Back to RW24 Back to the Federal Index Home
A LITTLE HISTORY ON THE 24TH (1957-58) DUCK STAMP ARTIST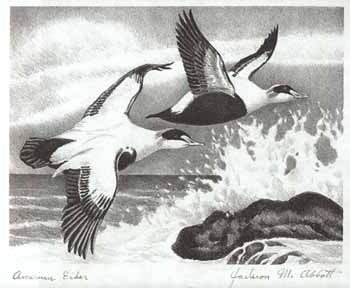 If World War II hadn't intervened, Jackson Miles Abbott might have been a full-time professional ornithologist with a side interest in military engineering as a hobby. During his career in the Army, Mr. Abbott worked in land-mine warfare, as a writer, in the engineering technical teams, and in several other capacities. But while he was busy with his military life, he managed to maintain a lively interest in ornithology and art.
His background certainly seemed to be one that would tend to lead him to ornithology instead of the military. Jackson Miles Abbott was raised in New England and southern California. He was born in Philadelphia on January 25, 1920.
In 1941, Mr. Abbott had a sudden shift in his life's plan. Soon after the beginning of World War II, he joined the Army. In the armed forces he became a member of a unit that was sent to do camouflage work in the Caribbean in February, 1942. He designed, erected and maintained camouflage of Army defenses there for two years. After that, he was sent to Fort Belvoir to attend the Army Engineers Office Candidate School. He graduated in August 1943.
He later saw more active duty, working chiefly in land-mine warfare during the campaign in France, Belgium, and Germany. For his efforts, he was decorated with a Bronze Star. He stayed with the Army after the war, serving as an intelligence officer and also as a writer of technical field manuals and training publications at the Army Engineer's School. His subjects for the publications were land-mine warfare, field fortifications, and camouflage.
All of this technical and military work was only part of Mr. Abbott's life. He started out with ornithology as a hobby at age six and maintained an active interest throughout his life. If he hadn't become interested in military engineering, Mr.Abbott quite probably would have been a full-time ornithologist. He devoted a lot of his time to the study of birds. In fact, he banded 1,400 birds for the Fish and Wildlife Service as part of a study of migration during one seven month period. He not only watched and tagged birds, but he drew and sketched them. In addition, he wrote a column for a Sunday magazine on the birds to be seen in the Washington area. He also gave lectures on natural history. More of Mr. Abbott's descriptions and illustrations of birds can be seen in the book Beginner's Guide to Attracting Birds by Hausman, published by Putnam in 1951.
In addition to his ornithology and military duties, Mr. Abbott served as president of the Waynewood Civic Association, cochairman of the Mount Vernon Council of Citizens Association, was a member of the Audubon Society, an officer in the Virginia Society of Ornithology, and a Sunday school teacher.
Mr. Abbott died in May 1988 in Virginia.
-------------------------THE ART-------------------------
Common Eiders was a gouache painting. The print was hand pulled from a lithograph stone using black ink on white paper. The prints were hand signed in blue ink but not numbered. The print image size is 7 1/2""x9 3/4".

-------------------------THE STAMP-------------------------
Common Eiders...Engraved by the Federal Bureau of Engraving from the original artwork. Printed in medium yellowish green ink. The stamp sold for two dollars. Postal records show 2,355,353 stamps sold. First day of sale was July 1, 1957.
Most of the information contained above is from the book Federal Duck Stamp Story, Fifty Years of Excellence, by Laurence F. Jonson; Alexander & Co. It is used here with permission from the author. For more information on this book, please click here.