Back to RW26 Back to the Federal Index Home
A LITTLE HISTORY OF THE 26TH (1959-60) DUCK STAMP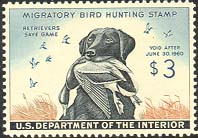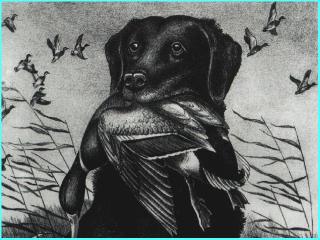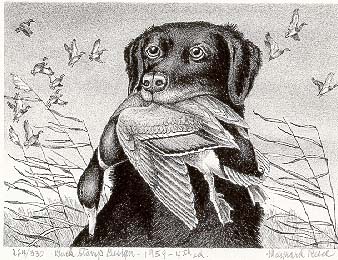 After his second duck stamp came out, Maynard Reece spent a good deal of time looking for material for his painting. When he stopped at the Nilo Kennels in the late 1950's he found the perfect subject, a retired hunting dog named King Buck. King Buck, the dog that eventually graced Reece's third duck stamp, had a long and interesting history.
On April 3, 1948, a black Labrador Retriever gave birth to a litter of eight pups in Storm Lake, Iowa. When the pups were sold in the fall, one of the males went to Mr. Robert Howard of Omaha for $50. Somehow, the young pup caught distemper and for weeks struggled just to stay alive. He barely survived the ordeal. By the time he reached 18 months, he had regained his health and had begun his first real field hunting. Although he would occasionally have a "wild" day, the dog was a fast learner and had some impressive victories. The dog was sold for $500 to Mr. Byron Grunwald of Omaha in December 1949. Mr. Howard continued to handle and train the dog himself. King Buck soon began to show his natural talent in almost every department.
At that time, Mr. John Olin was looking for retrievers for his kennels and King Buck caught his attention. Mr. Grunwald had been offered $5,000 for the dog, quite an appreciation from the $50 paid for an ailing pup. Mr. Olin topped that figure and in June 1951, the dog was delivered to T.W. "Cotton" Pershall, the manager of Nilo Kennels.
Mr. Olin's confidence in the dog was justified when King Buck completed 10 of 11 series of the 1951 National Championship Stake. He performed well again the next year, and entered the grueling "National" in November. Three days later, it was official - King Buck was the finest field trial retriever in the nation.
In 1953, King Buck defended his crown and saw action in the National Field Trials for four more years. While he was at Nilo, he established a record matched by no other retriever in history, finishing 73 series of a possible 75 in seven consecutive runnings of the National Championship Stake. Later, with Mr. Olin as his handler, he completed ten more series for a brilliant record of 83 complete series of a possible total of 85.
Later there was a memorable day when Buck captured three trophies at once. Each of the trophies had not been retired for about 18 years. To claim any of them permanently, an owner, kennel, or dog had to win each one three times. King Buck succeeded in all three categories and took all three out of circulation.
-------------------------THE ART-------------------------

Labrador Retriever-Holding Mallard was painted in watercolor wash and gouache. The print was hand pulled from a lithograph stone and printed in black ink on Rives heavy white paper. The print is hand signed in pencil but not numbered (first edition). The image size of the print is 6 5/8" x 9 1/8". The fourth edition size is 330 and was changed slightly. The dog was aged a little in the fourth edition according to Reece.
-------------------------THE STAMP-------------------------
Labrador Retriever...Engraved by the Federal Bureau of Engraving from the original artwork. Printed in black, blue, and yellow ink. This was the first multicolored stamp. The stamp sold for three dollars. Postal records show 1,628,365 stamps sold. First day of sale was July 1, 1959.
Most of the information contained above is from the book Federal Duck Stamp Story, Fifty Years of Excellence, by Laurence F. Jonson; Alexander & Co. It is used here with permission from the author. For more information on this book, please click here.