Back to RW34 Back to the Federal Index Home
A LITTLE HISTORY ON THE 34TH (1967-68) DUCK STAMP ARTIST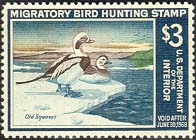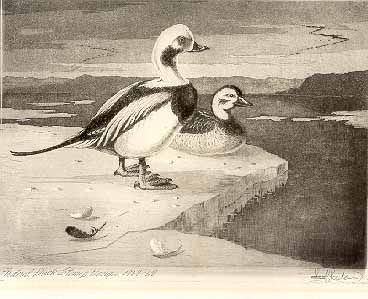 It's a long walk from a small farm near Hutchinson, Minnesota to the bustling metropolis of Minneapolis. And it's a long journey for 14-year old boy, taking correspondence courses, to become a respected wildlife artist and proprietor of one of the finest galleries in the country. Leslie C. Kouba knew how to take both of these trips-one step at a time.

For Leslie C. Kouba, there were no fancy schools and no tips abroad to study art with the best painters of the time. There was only a correspondence course with the Art Institute, Inc., of Minneapolis, and the driving desire to be a wildlife artist.

When he was just entering the field of the professional artist, Mr. Kouba added a few decorations to brighten his studio, with no hint of how the idea would blossom. Mr. Kouba was still in the early stages of his professional life and happened to have an advertising art studio in which the walls were large and covered with peg-board. He decided the walls would be a good place to hang his own paintings and also those of some of his close friends. As people visited the studio, the work began to sell at an ever-increasing rate. Mr. Kouba was surprised at this unexpected development and continued to display the work. Because of the demand, he moved into larger quarters in 1956 where he could show the work of more artists. What started out as a simple display turned into a business and continued to grow under his direction.

In 1961, he expanded the gallery-studio again and the business continued to grow. At present, Mr. Kouba has one of the largest and finest galleries of its type in the country. It is called the American Wildlife Art Galleries, and has literally hundreds of items on display. Among these items are watercolors, oil paintings, etchings, sculptures, woodcarvings, ceramics, leathercraft, and stone lithographs. They represent some of the best work of many top artists around the country.

Mr. Kouba has also met with success outside of his galleries. His works are familiar to many because of their wide distribution. Some of his paintings have been reproduced as deluxe fine-art framing prints by Rudolph Lesch, Inc., of New York. Some of these prints were so popular that they have been distributed worldwide. Others are exclusive with his own American Wildlife Art Galleries. Mr. Kouba currently does commercial as well as fine art. For more serious painting, he uses his new studio at home. For commercial work, he likes his downtown studio. His originals can be found on many calendars, in books and national magazines, and in collections all over the world.

In addition to his other work, Mr. Kouba has had some fine color photographs of the gallery made up in post card form. The cards are beautiful and seeing one provides an irresistible urge for the art lover to visit the gallery.

--------------------THE ART--------------------

Oldsquaw Ducks was painted in gouache and watercolor wash. The print is a hand-pulled dry-point aquatint on English Text antique white paper with black ink. The prints are hand signed but not numbered. The image size of the print is 6-3/4" x 9-3/4". This is Les Kouba's second design win.


--------------------THE STAMP--------------------

Oldsquaw Ducks… Engraved by the Federal Bureau of Engraving from original artwork. Printed in blue, brown and yellow ink. The stamp sold for three dollars. Postal records show 1,934,697 stamps sold. First day of sale was July 1, 1967.

Most of the information contained above is from the book Federal Duck Stamp Story, Fifty Years of Excellence, by Laurence F. Jonson; Alexander & Co. It is used here with permission from the author. For more information on this book, please click here.