Back to RW36 Back to the Federal Index Home
A LITTLE HISTORY ON THE 36TH (1969-70) DUCK STAMP ARTIST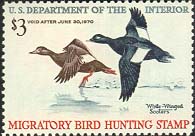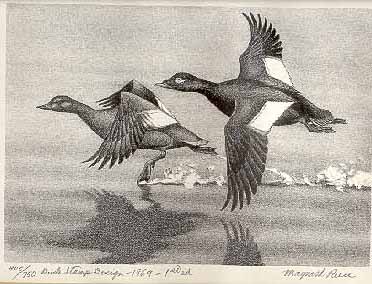 When Maynard Reece won an unprecedented fourth Duck stamp design contest, the competition was keener than ever as it attracted the attention of more and more artists. Only ten years before, 100 submissions were received from 64 artists. That year, there were 218 entries. Although the number of artists competing was not announced, there were probably over 100 persons working to gain this distinction. Minnesota led the field with 25 entries from 12 artists. Maryland and Virginia were second with 17 designs each. The entries came from a total of 32 states throughout the country.

Mr. Reece chose the White-winged Scoters for his stamp, and as it happens, it was the first time that species had appeared on a Duck Stamp. Mr. Reece's first design was the Buffleheads stamp which he completed while he was still in his twenties. A mere three years later, the second stamp featuring Gadwalls, had been used. His Labrador Retriever, popularly known as "King Buck" had been chose for the 1959-60 stamp.

Mr. Reece was becoming more selective in the type of wildlife art that he did, and there was a change in emphasis in that he was now doing more work for galleries. By this time, he was already one of the country's most respected wildlife artists, and there was great demand for his work. He had a commission for 12 paintings of his big game animals, and was working on another fish book. On top of it all, he was still doing paintings for advertisers, calendars, and magazines.

In addition to all of his other work, Mr. Reece was now producing lithographs of the waterfowl and other animals that he enjoyed painting so well. These were comparable in size and price to his famous Duck Stamp prints and all of them could be obtained by writing to his studio or to stores where prints were sold.

Mr. Reece became a member artist of the Grand Central Galleries of New York City in 1968. All varieties of his work could be seen and purchased in the galleries. Of course, the subject matter of his paintings was mainly the waterfowl and upland game birds that he enjoyed so much. At the time, he was doing nearly all of his work in oil but he occasionally would do a watercolor.

Mr. Reece, his wife June, and their two teen-age boys, spent most of the time during the school year at the family's studio home in Des Moines, Iowa. In the summertime, they could be found either on trips throughout North America and Europe or at a studio cabin in northern Minnesota. All four had a long and active interest in such sports as boating, canoeing, hunting, and fishing. The boys had become fine sportsmen-good hunters and fishermen.

With their love of sporting, it was only natural that the family should take up snow skiing, especially since Mr. Reece had always been drawn to the mountains.

--------------------THE ART--------------------

White-winged Scoters was a full-color watercolor wash painting. The print is a stone lithograph; hand pulled using black ink on white Rives heavy paper. The prints are signed and numbered in pencil. The edition was 750 prints. The image size of the print is 6-1/2" x 9-1/4". This was the fourth winning design in the Duck Stamp competition for Maynard Reece.


--------------------THE STAMP--------------------

White-winged Scoters…Engraved by the Federal Bureau of Engraving from the original artwork. Printed in brown, red, blue & black ink. The stamp sold for three dollars. Postal records show 2,087,115 stamps sold. First day of sale was July 1, 1969.

Most of the information contained above is from the book Federal Duck Stamp Story, Fifty Years of Excellence, by Laurence F. Jonson; Alexander & Co. It is used here with permission from the author. For more information on this book, please click here.