Back to RW43 Back to the Federal Index Home
A LITTLE HISTORY ON THE 43RD (1976-77) DUCK STAMP ARTIST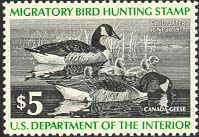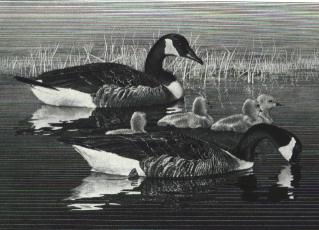 Alderson "Sandy" Magee started out as a small boy with big plans. He had always been fascinated by the principles of flight. His interest in birds, planes, and lighter than aircraft was keen. Consequently, when he was quite young, he designed a hot air balloon and made plans to set it loose. The flame was lit, and all systems were "go." Suddenly, his grandmother, seeing the flame and thinking that something was awry, vigorously attacked the balloon with a broom. Sandy's brainchild tilted to one side and burned beyond repair.

Mr. Magee left Hartford for a three-year enlistment in the United States Marine Corps. Later, he enrolled at the University of Connecticut and there received a Bachelor of Science degree in industrial management. Combined with his lifelong interest in aviation, his degree was helpful in securing a position as a technical representative with Pratt and Whitney Aircraft.

Mr. Magee also served as executive secretary for the Bradley Air Museum in Connecticut and was involved in the acquisition of interesting historical aircraft. In 1960, he located the last remaining Gee-Bee airplane in the world. The Gee-Bees were airplanes that had risen to fame as superb racers in the early 1930's. Jimmy Doolittle won the 1932 Thompson Trophy, one of the most coveted trophies of the time, in a racing Gee-Bee. Mr. Magee went to Claremore, Oklahoma to get the plane, intent on flying it back to the Museum. He ended up making a forced landing when the engine failed over Ohio. The aircraft was dismantled and transported by truck to Connecticut.

When Mr. Magee was made the director of trade show exhibits for Pratt and Whitney, he hired an intelligent and very pretty secretary, Mary Ann Kaspar. The two were married in May of 1970, and she has been at his side ever since.

He felt that he could make it on his own in the art world by 1971 and resigned from Pratt and Whitney. Of course, there were areas in which his talent needed improvement, but he was keenly aware of them. He enrolled in several courses at the West Hartford Art League and began to iron out rough spots under the direction of Estelle Coniff. He couldn't have found a more unusually talented woman or a better teacher. She seemed to have sure answers for all of his questions. In 1972, he decided to try the medium, scratchboard, which he had read about in an old art book. He was fascinated by this technique and has used no other medium since.

He almost missed the deadline for the Duck Stamp contest three years later. He made it to the post office with his entry with just twenty minutes to spare. What followed was a chain of events that firmly established this pilot-turned-artist in the art world.

--------------------THE ART--------------------

Canada Geese is unusual in that it is a scratchboard rendering. The print is photomechanically reproduced as a photolithograph using a three-plate process. It was printed on Triton 100 lb. Neutral pH paper using special lightfast inks. The print was hand signed and numbered in pencil. The edition is 3,600 regular prints, 1,000 with a companion piece (small scratchboard remarque) and 150 artist proofs. The image size is 6-1/2" x 9".


--------------------THE STAMP--------------------

Canvasback Decoy…Engraved by the Federal Bureau of Engraving from the original artwork. Printed in yellow, orange, green, grey, brown, and black ink. Stamp sold for five dollars. Postal records show 2,218,589 stamps sold. First day of sale was July 1, 1975..

Most of the information contained above is from the book Federal Duck Stamp Story, Fifty Years of Excellence, by Laurence F. Jonson; Alexander & Co. It is used here with permission from the author. For more information on this book, please click here.