Back to RW61 Back to the Federal Index Home
A LITTLE HISTORY ON THE 61ST (1994-95) DUCK STAMP ARTIST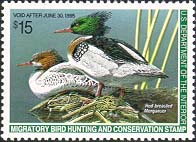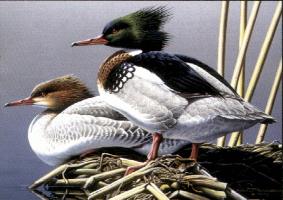 Winning the 1994-95 Federal Duck Stamp Contest has reaffirmed Neal Anderson's position as on e of America's leading wildlife artists. Through one of his eloquently detailed designs was selected to grace the 1989-90 Federal, Anderson's excitement is no less evident, "It's fantastic!," he said upon receiving word of the judges' decision. "It's absolutely the best compliment a wildlife artist can receive."
Anderson's Federal Duck Stamp Contest wins have fulfilled a lifelong goal for this dedicated artist to whom conservation art contest have provided many honors and distinctions. Anderson won the 1984 and 1988 Nebraska Conservation Stamp contests, and was commissioned to paint the 1984 National Arbor Day Stamp, the 1984 "First of State" Nebraska Trout stamp and the 1986 "First of State Nebraska Wood Duck Stamp. Named their "Artist of the Year," Anderson was selected by Nebraska Ducks Unlimited to design their sponsor prints in 1984, 1990 and 1994. He is one of only four to serve as 1994 Ducks Unlimited National Flyway artists, and is currently a DU state regional artist. He also designed the 1988 Kansas Ducks Unlimited Sponsor Print, the 1989 Missouri Ducks Unlimited Sponsor Print, and the 1990 North Dakota Ducks Unlimited Sponsor Print. In 1991, Anderson was commissioned to paint the "First of State" Nebraska Duck Stamp, and also designed their 1992, 1993, 1994 and 1995 stamps.
Anderson has made a strong commitment to supporting conservation. For over 17 years he has been an avid supporter of organizations such as Pheasants Forever, Rocky Mountain Elk Foundation, Safari Club International, Quail Unlimited and Ducks Unlimited. His donations of original art and limited edition prints have greatly aided these groups in their fund-raising efforts to improve wildlife habitat.
A disciplined artist, he strongly believes one should continue to strive for improvement with each new work. Over 36 of his paintings have been produced in limited edition prints, and his work can be found in private and corporate collections throughout the United States and Canada. He currently resides in Nebraska with his wife, Susan and their seven children.
--------------------THE ART--------------------
Red Breasted Mergansers was reproduced as a lithograph on 100% rag paper using fade-resistant inks. The regular print edition consisted on 20,000 signed and numbered prints. The Medallion edition was issued in a quantity of 7,000 and 500 Executive editions were printed. The print image size is 6 1/2"x 9".
--------------------THE STAMP--------------------
Red Breasted Mergansers...Engraved by the Federal Bureau of Engraving from the original artwork. Printed offset/Intaglio D press. The stamp sold for fifteen dollars. Postal records show 1,471,751 stamps sold. First day of sale was June 30, 1994.