Back to RW64 Back to the Federal Index Home
A LITTLE HISTORY ON THE 64TH (1997-98) DUCK STAMP ARTIST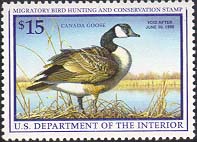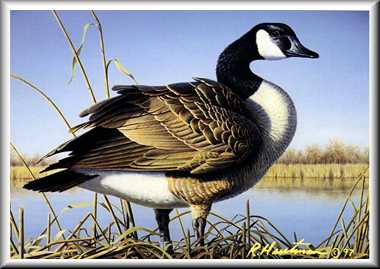 With several waterfowl stamp competition victories, Robert Hautman takes his place among the most successful young wildlife artists in the field today. An accomplished sculptor and one-time professional skier and sports enthusiast, Mr. Hautman was born on January 31, 1959. He has always loved the outdoors, and has spent a great deal of time exploring the wilderness of his native Minnesota. With the encouragement of a family of artists, he has forged a career that has seen him place highly in a number of state and federal stamp competitions.
As the third Hautman to win American's most prestigious conservation art competition, Robert successfully follows a dedicated line of family artist. Younger brother Jim won the contest in 1989, 1994 and 1999 while older brother Joe claimed victory in 1991. After finishing as a finalist in five previous contests, Mr. Hautman's 1997 design, featuring a majestic solitary Canada goose, was selected to grace the 1997-98 Federal Duck Stamp.
Mr. Hautman says he feels most successful when "someone comes away from viewing my work feeling a commitment to preserving and maintaining the delicate balance of our natural resources." Since most of the Federal duck stamp revenues go toward preserving wetlands, he feels winning the contest is a great way to contribute to the environment.
Although their artwork is often in competition, the brothers are very supportive of one another's efforts. "We're always learning and trying to do art differently," Mr. Hautman says. "It's interesting to hear how other artists, especially your brothers, are creating their art. But what works for one doesn't always work for the other."
Over the course of nearly two decades his work has gained the recognition and respect of collectors, gallery owners and art critics throughout America. He has received many honors and awards, including: the 1995 Minnesota Pheasant Stamp, the 1988 and 1992 Minnesota Duck Stamp, the 1989 Nevada Duck Stamp and was chosen as a 1996 Duck s Unlimited flyway Artist.
Through his dedication to studying his subjects in their natural habitats and the mastery of style and technique, Mr. Hautman has achieved the ability to create beautiful representational artworks imbued with dramatic lighting and authenticity.
In his down-to-earth manner, Robert says, "I think painting is transferring what I see and feel in nature onto a canvas. What's in my mind just comes out on the canvas."
Mr. Hautman is a member of Ducks Unlimited and the Minnesota Waterfowl Association, as well as several other organizations dedicated to preserving the waterfowl population.
--------------------THE ART--------------------
Canada Goose was reproduced as a photo-lithograph on fine 100% rag paper using premium fade-resistant inks. The collector edition consists of 17,500 signed and numbered prints, 2,000 Medallion edition and 500 Executive editions which include a pencil remarque. There was also an artist proof edition of 950 prints. The print image size is 6 1/2"x9". The medallion is full struck 2 3/32"x1-5/16"
--------------------THE STAMP--------------------
Canada Goose…Engraved by the Federal Bureau of Engraving from the original artwork. Printed in full color. The stamp sold for fifteen dollars. Postal records show 1,697,590 stamps sold. First day of sale was June 21, 1997 in conjunction with NAPEX stamp show.