Back to RW10 Back to the Federal Index Home
A LITTLE HISTORY ON THE 10TH (1943-44) DUCK STAMP ARTIST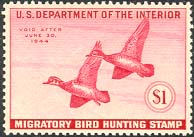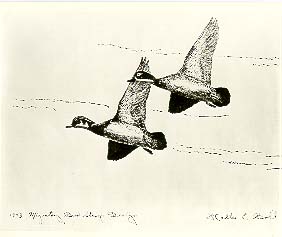 It was a hot July day in 1934. Eleanor Roosevelt was browsing among the displays at an outdoor art show in Chicago. Mrs. Roosevelt made only two purchases that day, one of which was an etching from the display of Walter E. Bohl. With the works of more that 300 artists to choose from, she chose the work of a man who had no formal art training in his life - a man who just a few years earlier had scratched out his first etching with a darning needle.
It all began in 1930 when Mr. Bohl was working for the Illinois Bell Telephone Company in Chicago. For a time, he became seriously ill and had to leave his work. During a long recovery, he began making his first pen-and-ink drawings to pass the time. Ever since his boyhood in Columbus, Wisconsin, where he was born on September 10, 1907, he loved to fish. It was quite natural that his subjects were birds, animals, and outdoor scenes.
In October of 1934, Mr. Bohl married Ann Larson of Lake Own, Wisconsin and set out for Stuttgart, Arkansas.
The ducks and hunting dogs they found were featured in a display the following summer when the young couple returned to Chicago for an outdoor art show. During the show, two strangers stopped to examine Mr. Bohl's work and then asked him to bring samples to their office. Not until the next day when he went to the address the men had given him, so interested in his work were from Esquire magazine. The interview that followed resulted in a spread in the November 1935 issue of the magazine. This was the first national presentation of his etchings and Esquire proclaimed him as one of their proudest discoveries.
After that, Esquire regularly featured his work - from 1934 to 1943. When he began doing watercolors in 1941, they too, were immediately successful. Esquire published one each moth during 1942. His work appeared in several magazines and there were newspaper articles about him in various parts of the country. With no formal art training, Mr. Bohl had firmly established his reputation as an etcher and painter.
His work can be seen in the Bertha Jaques Memorial at the National Gallery in Washington, D.C., at the department of Library and Archives in Arizona, in the building housing the Department of Wildlife Ecology in Wisconsin, and in private collections in the United States, Mexico, Canada and Europe. Mr. Bohl has shown his work in many nationally prominent exhibitions and has had one-man shows in six large galleries. Prior to his death on March 15, 1990, Mr. & Mrs. Bohl lived in a hexagonal home that Mr. Bohl built himself on a tract of desert land 20 miles north of Scottsdale, Arizona.
---------------THE ART---------------
Wood Ducks was a dry-point etching on copper. Prints were on hand pulled using white Rives paper with blank ink. Prints were hand signed in pencil but not numbered. The print image size is 5"x7"..
---------------THE STAMP---------------
Wood Ducks...Engraved by the Federal Bureau of Engraving from an original print. Printed in Indian red ink. The stamp sold for one dollar. Postal records show 1,169,352 stamps sold. First day of sale was July 1, 1943.
Most of the information contained above is from the book Federal Duck Stamp Story, Fifty Years of Excellence, by Laurence F. Jonson; Alexander & Co. It is used here with permission from the author. For more information on this book, please click here.