Back to RW28 Back to the Federal Index Home
A LITTLE HISTORY ON THE 28TH (1961-62) DUCK STAMP ARTIST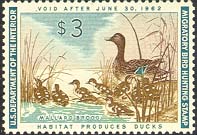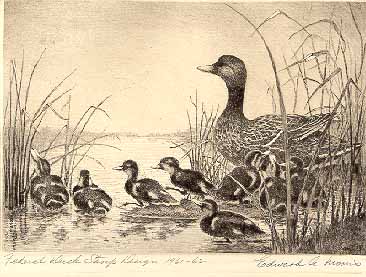 Edward A. Morris likes to live a very quiet life. In fact, he says of his present home in Montana, "I have no phone since I don't know anybody in town that would call me." There may not be anyone in town who would call, but several biographers would like to "Give him a rig" to find out a few more details on the rather sketchy accounts of his life.
Mr. Morris' accomplishments and abilities are certainly more plentiful than the information about him. He has distinguished himself in the fields of wildlife art and western art in many different media. Many artists whose major interest is in wildlife find that they often need to get away from people in the city and back to nature to improve the quality and realism of their work. If it is true that being in touch with nature improves a person's art, Mr. Morris' success is easily explainable.
Philadelphia, Pennsylvania was the birthplace of a boy named Edward A. Morris, and July 28, 1917 was his birthdate. In the one biography available about him in the Library of Congress, there is no information about his parents, or of his childhood experiences with wildlife or art. One of his old brochures does say "his early interest in art grew with him." No information is available about his early schooling.
One thing that is known for certain is that he spent eight years of his life in the United States Marine Corps. Few people are exactly sure of what eight years those were. One biographer suspects that he joined the service two years after he got out of high school in 1935-36, and went to boot camp on Parris Island in South Carolina, where the Marine Corps trains most of its recruits east of the Mississippi. If those figures are near correct, Mr. Morris' discharge date would be placed around 1945. Since very few of the Marines who fought in World War II were let out before that year, it is a reasonable date to assume for his discharge.
After the war, he took advantage of the aid offered in the G.I. Bill. With that money he started studying at the Philadelphia School of Art and later graduated from the same institution.
After his graduation, he began to exhibit his work throughout the Philadelphia area and his reputation began to grow. He eventually broadened his audience by showing his work in the American Watercolor Society of New York His work was sold to many private collectors.
In addition to his work as a painter, Mr. Morris has also tired his luck as an illustrator. One of the works that he contributed to was The Northwestern Banks Hunting Guide, 1962. His work began to gain more and more recognition, receiving wide coverage in several magazines, including Linn's Weekly Stamp News, Naturalist, and Gopher Historian.

-------------------------THE ART-------------------------
Mallards was painted in watercolor wash. A dry-point etching aquatint was hand pulled; printing black ink on antique white English Test. The prints are hand signed in pencil but not numbered. The image size of the print is 6 3/8" x 9 1/8".

-------------------------THE STAMP-------------------------
Mallards...Engraved by the Federal Bureau of Engraving from the original artwork. Printed in dark reddish brown, moderate yellowish brown, and light blue ink. The stamp sold for three dollars. Postal records show 1,346,003 stamps sold. First day of sale was July 1, 1961.
Most of the information contained above is from the book Federal Duck Stamp Story, Fifty Years of Excellence, by Laurence F. Jonson; Alexander & Co. It is used here with permission from the author. For more information on this book, please click here.